| | |
| --- | --- |
| | Keeping up to date: getting information delivered to your desktop |
How can I identify an RSS feed?

Generic RSS Feed Icon may appear on a web page when a feed is available.

Firefox: Blue Feed Icon appears in URL bar when a feed is available.

Internet Explorer: Orange Feed Icon with drop down list of available feeds appears below search box on right when a feed (or feeds) is available.

Safari: Blue RSS icon appears in URL bar when a feed is available.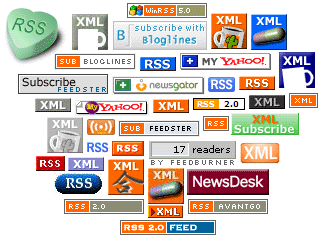 Other icons may appear within a web page to indicate that a feed is available. (Image courtesy of the RSS Advisory Board)
Many databases provide table of contents, current issue, future issue, last 3 issues feeds for individual journals. Check the publications/titles list -- there's usually a link. If not, email your Clinical Librarian (triza.crittle@howard.edu) for help.
Set up your RSS feed Reader
First, you'll need to set up a RSS reader or "aggregator." This is just a website where you can read all your feeds in one place. Reader sites are a matter of preference, please contact me for suggestions. NOTE: with your RefWorks account there is a RSS reader embedded, see--under the Search Tab--RSS Feeds to set up your feeds. Also Outlook has an RSS feedreader (you must be in the Desktop version of your Outlook and not the hybrid or Exchange version in order to set up your feeds)
Please Note: in the following examples are screenshots of Bloglines (no longer exist) and Google Reader (which will cease to exist July 1, 2013). Although these examples show them---the basic premise of setting up feed is the same. Find a Reader to send all your feeds, locate an orange icon or locate the proper URLs as shown below and cut & paste the URL in the "Add" or "Add Subscription" of your reader.
A site's "feed" is just the URL you need to copy and paste into your reader so that you'll get updates. Typically the feed is indicated with an orange icon like the ones above. It may be in the location bar of your browser like this:
Or it may be elsewhere on the page. Copy this URL to your clipboard (in this example, it's just http://www.cnn.com/).
In the top left of your reader page, there's a link that says "Add" or "Add Subscription." Click it!
Paste the feed URL into the box that appears and click "Subscribe" or "Add." If the site has more than one feed, you may also have to check a box to choose which one you want.

You've now subscribed to the site's feed. When you go to your reader page, a number will appear indicating how many new items have appeared from that site since you last read it.
Subscribe to Database Searches
More and more article databases offer RSS alerts for saved searches. This allows you to search for your topic once, then subscribe in your RSS reader to receive notifications of any new articles that match your search. Detailed steps will differ by database, below is an example:
Type your search normally.
Click the orange RSS icon above the search box.
Right-click the orange XML icon and copy the URL.
Paste the URL into your reader.